It all began with a conversation.
In 2003, a couple of CEOs of community health centers serving South Los Angeles began meeting informally to discuss some of the common challenges they faced as safety net providers.
Their challenges were unique to the South Los Angeles community that they served. | Read More |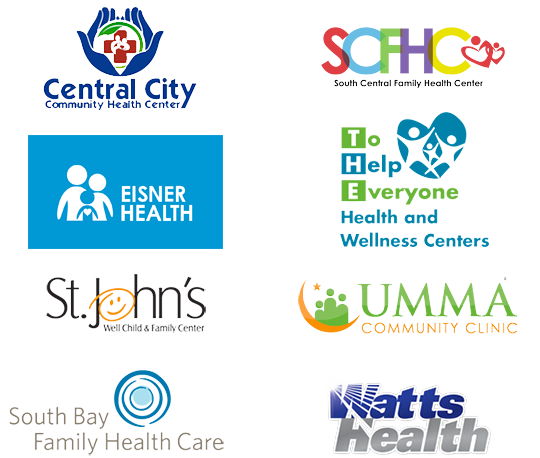 IN THE PRESS
Thank You for Making Our "Save Our Healthcare" Rally a Huge Success  
Hundreds of people march through downtown Los Angeles protesting President Donald Trump's plan to dismantle the Affordable Care Act, his predecessor's signature health care law, Thursday, March 23, 2017. The demonstration came as U.S. congressional leaders postponed a vote on the American Health Care Act, which the White House hopes will replace Obamacare. [Read More] [Read More] [Read More]
As Undocumented Children Enroll in Medi-Cal, Some Clinics See Uptick in Patients
As of late June, some families were still waiting for the county to transition their children to full Medi-Cal. However, clinics and advocates expected the process to be completed soon. Kopke said the next phase of outreach is focused on finding harder-to-reach families, those whose children were not enrolled in My Health LA and who may be wary of the Medi-Cal expansion or not have heard of it. Eisner is working with a coalition of health clinics — the Southside Coalition of Community Health Centers — to find those families and get them enrolled, Kopke said. Many are fearful about signing on to a government program and providing information on their immigration status, she said.
Nina Vaccaro, executive director of the Southside Coalition of Community Health Centers, said her organization is working with public schools in south L.A. to spread the word to families. A community outreach coordinator has been visiting schools that have many undocumented youths and giving presentations on the Medi-Cal expansion to students and parents, she said. "It's been difficult. It's a really challenging population to reach and there's a lot of trust issues," she said. "People have a lot of fear about sharing their information and acknowledging to anyone that they are undocumented, so it takes a lot of trust-building." |Read More |
The Dogged Determination Behind a Decade of Health Gains in South L.A. Once in Competition, Community Health Centers United to Improve Access and Hold Community Leaders Accountable
Health care, and access to it, has been quietly improving in South Los Angeles over the last decade. But, as I've seen firsthand while working with a collective network of eight independent community health centers that serve 210,000 people across the area at 45 clinic sites, such progress has not come easily.
Since 2007, this network—the Southside Coalition of Community Health Centers—has increased capacity by 53 percent. Last year, our clinics provided nearly 765,000 primary care visits to 210,000 community members. Yes, the Affordable Care Act (Obamacare) increased their growth but it wasn't enough. Thirty-eight percent of their patients are still uninsured. |Read More |
Immigrants, the Poor and Minorities Gain Sharply Under Health Act
The first full year of the Affordable Care Act brought historic increases in coverage for low-wage workers and others who have long been left out of the health care system, a New York Times analysis has found. According to Jim Mangia, CEO of St. John's Well Child and Family Center, "From the vantage point of the poor and working poor, Obamacare has been profound."| Read More |
New Preventive Health Program Helps South L.A. Seniors Get 'HAPPI'
The Healthy Aging Partnership in Prevention Initiative, a community-based research project, has assembled a diverse team to encourage use of clinical preventive services. The collaborative effort includes: Los Angeles Department of Public Health; Southside Coalition of Community Health Centers; Los Angeles City and County Departments of Aging; Local community-based organizations; and a multidisciplinary group of UCLA investigators. | Read More |
Southside Coalition members St. John's Well Child and Family Center and Eisner Pediatric & Family Medical Center staff are interviewed in the New York Times about the rollout of Health Care Reform in California. With enthusiastic backing from state officials and an estimated seven million uninsured, California is a crucial testing ground for the success of President Obama's health care law.| Read More |
Southside Coalition Promotoras de Salud Fill Health Care Reform Knowledge Gap for Patients
For more than two years, Southside Coalition Promotoras de Salud have been sharing conversations about health care reform with patients in South Los Angeles health center waiting rooms. The article discusses this and other best practices Southside Coalition team members are using to connect patients with the resources they need. | Read More |
Six Southside Coalition Health Centers to Receive Obamacare Funding to Aid Enrollment.
Six Southside Coalition Health centers are among the 26 California clinics that will receive funds from the Affordable Care Act to help uninsured Californians enroll in health insurance programs. | Read More |
Do Community Health Centers Mean Better Care for Chronically Ill Patients?
In the debate about how to improve health care while reigning in costs, a Los Angeles Times article posed this important question, "Are clinics better than emergency rooms for the chronically ill?" The article follows the care provided by Southside Coalition member T.H.E. Clinic. | Read More |
Watts Healthcare Corporation Takes Wellness Care Back to School.
Opening new wellness centers in schools is just one way that Southside Coalition community health centers extend care into more areas of South Los Angeles where healthcare is most needed. Watts Healthcare Corporation recently opened a new health center in Locke High School. | Read More |