Southside Coalition of Community Health Centers-Profile in Compassion: A Doctor's Journey to Help Meet the Healthcare Needs of Inglewood and South LA
SOUTH LOS ANGELES – The Southside Coalition of Community Health Centers is a network of eight Federally Qualified Health Centers (FQHCs) serving the health care needs of the South Los Angeles community. At Southside Coalition clinics, a multi-ethnic and multi-lingual team of doctors, nurses, pharmacists and more health care workers serve as part of the collective group providing affordable, convenient and high-quality healthcare services through more than 50 clinics around South Los Angeles.
Recently, several physicians, health care providers and allied health professionals were interviewed as part of the Southside Coalition of Community Health Centers' focus on Profiles in Compassion. A recurring theme was their purposeful choice to work in South Los Angeles to help fulfill the unique health care needs of this community, which faces challenges such as:
Exhibiting significantly higher rates of many chronic diseases and preventable hospitalizations than patients in other neighborhoods and regions;
Historically receiving lower levels of funding from local, state, and federal sources, despite greater and often more complex healthcare needs.
Here is the story of Dr. Cesar Barba's route to becoming a doctor at Venice Family Clinic, a
Southside Coalition member clinic dedicated to serving the Inglewood and South LA community.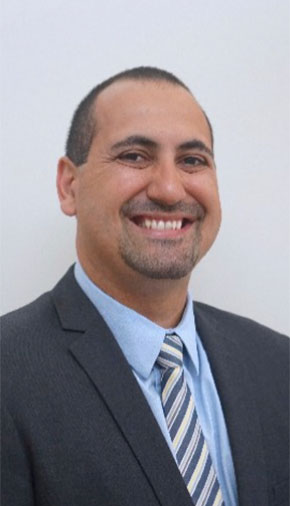 Cesar Barba, MD, is Board Certified in Family Medicine. He graduated from the Charles R. Drew University of Medicine and Science and University of California, Los Angeles (UCLA) Medical Education Program. He completed his residency in Family Medicine at Harbor-UCLA Medical Center. In addition to caring for patients, Dr. Barba's primary duties as Venice Family Clinic's Associate Medical Director are to align clinical practices and workflows at locations formerly known as South Bay Family Health Care with those of Venice Family Clinic, as the two facilities merged in November of 2021.
A son of immigrants who were born in Mexico, Dr. Barba was raised in the United States and experienced obstacles that his patients relate to in terms of disparities in healthcare. His mother delivered his older siblings in the U.S., but because of a traumatic experience, she decided to deliver both him and his younger sister in Mexico. His family grew up without health insurance and would drive to Tijuana for healthcare because that's where the doctors and nurses worked whom they trusted.
Dr. Barba envisioned himself following his father's footsteps by working in carpentry or construction, but high school biology fascinated him. He decided to begin his career in medicine at the University of California, Santa Barbara by studying Premed. Soon after, he applied to medical school and was accepted into Charles R. Drew University of Medicine and Science and UCLA where he began the medical program. While deliberating on which aspect of medicine to pursue, Dr. Barba's main focus was on making a difference in underserved communities.
"I wanted to serve those who do not have access," said Dr. Barba. That emphasis led him to his role at Venice Family Clinic.
Dr. Barba finds that working in healthcare is rewarding because he sees this type of medical care as playing a significant role in reducing health disparities and filling the equity gap. Many patients have encountered similar problems as Dr. Barba and his family did seeking healthcare in the U.S. as a Latinx immigrant.
"Inherent trust comes with my patients once they hear that I speak Spanish. Patients are at ease, and they feel comfortable," he said. Dr. Barba treats his patients like his family, and says "it is a privilege to help them." He doesn't want them to experience the discrimination, indifferent care and other obstacles that his family went through. Coming from a family of immigrants, Dr. Barba is laser focused on making access to quality, culturally sensitive care become the standard practice of care to support everyone in the community to have healthy, long lives.
With clinics throughout South Los Angeles, Compton, Inglewood, Watts and more, the
Southside Coalition of Community Health Centers provide affordable, easy and convenient
healthcare in your neighborhood.
To find a clinic near you, visit Southside Coalition of Community Health Centers' website at
southsidecoalition.org/booster or call (213) 221-2463. The eight community health centers and
location areas are listed below:
Central City Community Health Center: clinic locations in areas in South Los Angeles, including:

South Los Angeles Health Center, 5970 S. Central Ave., Los Angeles 90001

Eisner Health: clinic locations in areas including Downtown Los Angeles and Lynwood.
South Central Family Health Center: clinic locations in areas including South Los Angeles, Cudahy, Huntington Park, Vernon, including:

South Central Family Health Center, 4425 S. Central Avenue, Los Angeles 90011

St. John's Community Health: clinic locations in South Los Angeles, Crenshaw, Compton, East Compton, Lynwood including:

Dr. Louis Frayser Community Health Center, 5701 S. Hoover St., Los Angeles 90037
S. Mark Taper Foundation Chronic Disease and Environmental Health Center, 808 W. 58th St., Los Angeles 90037
Magnolia Place Community Health Center, 1910 Magnolia, Los Angeles 90007

T.H.E. Health and Wellness Centers: clinic locations in South Los Angeles, Inglewood, Crenshaw, Lennox, including:

Western Health Center, 3834 S. Western Avenue, Los Angeles 90062
La Brea Health Center, 3721 S. La Brea, Los Angeles 90016

UMMA Community Clinic (University Muslim Medical Association): clinic locations in
areas in South Los Angeles, including:

UMMA Clinic, 711 W. Florence Avenue, Los Angeles 90044

Venice Family Clinic: clinic locations in areas including Carson, Gardena and Inglewood.
Watts Healthcare Corporation: clinic locations in areas including Watts and Crenshaw, including:

Watts Health Center, 10300 Compton Avenue, Los Angeles 90002